---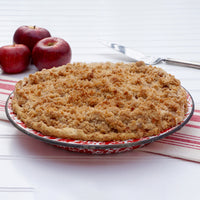 Ready to Bake Apple Pie (ACPA Apple Pie Day)
On Wednesday, October 4, the ACPA will be hosting its first ever Apple Pie Day! Join in and celebrate the upcoming long weekend with a delicious, ready to bake Apple Pie. Pies are $20 each. Please note: pies are made with a vegetarian crust, and they are not gluten or dairy free.
*Price noted includes HST.

Order deadline is Friday, September 29, 2023. Pies will be available for pick-up beginning at 3:15 p.m. on Wednesday, October 4 outside of the Appleby College Shop. Please contact ACPA Representatives Eva Dashti and Muge Demirkesen if you have any questions.